<!- /chem16/shim1-e.html /chem16/image/H4024.gif, (背景画) /chem16/photo/shimph1.JPG, (自分の顔写真s) /chem16/photo/Doc&Shimyph1.JPEG, (自分の顔写真) ->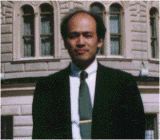 YOUICHI SHIMIZU

B. Eng. (Hakozaki, Higashi-ku, Fukuoka), Ms. Eng., Ph. D. (Kasuga-shi, Fukuoka)

Professor
Department of Applied Chemistry, Graduate School of Engineering
Kyushu Institute of Technology


1-1 Sensui-cho, Tobata, City of Kitakyushu 804-8550, Japan
---

E-mail: shims@tobata.isc.kyutech.ac.jp (is chaged as) shimizu.youichi366(at)mail.kyutech.jp
Dept. Office fax: +81-93-884-3300
Office location: The 8th Edu. & Res. Bldg. Room N402
Laboratory location: The 8th Edu. & Res. Bldg. Rooms N401-407, N501, C301

 
---
Research Areas:
Synthesis and characterization of inorganic functional material for the application of electrochemical and/or optical devices.
---
Current Research Topics:
My interests are in synthesizing and characterizing high functional inorganic materials for application in chemical sensor devices, batteries, and optical-devices based on ceramic materials such as solid electrolyte, oxide thin- & thick- films.
---
Recent Publications:
Solid Electrolyte Impedancemetric NOx Sensor Attached with Zeolite Receptor, Youichi Shimizua, Hikaru Nakanoa, Satoko Takasea, and Jeong-Hwan Song, Sensors & Actuators B, 264, 177-183 (2018).
A Thick-film Impedancemetric Carbon Monoxide Sensor Using Layered Perovskite-type Cuprate Youichi Shimizu*, Shinyu Yamamoto and Satoko Takase, Sensors & Actuators B, 249, 667-672 (2017).
Processing of Alpha-phase Metal-Phthalocyanine Powders by Interface Neutralization Method, Satoko Takase, Yuki Aoto, and Youichi Shimizu, Chemistry Letters, 45, (9), 1066-1068 (2016).
Amperometric Nitrite-Ion Sensor Based on Electrodeposited Sm-Based Perovskite-Type Oxide Thick-Film Electrode, Takahiro Yatsunami, Satoko Takase, and Youichi Shimizu, Sensors and Materials, 28, 7, 777-784 (2016).
Sol-Gel Processing of Li1.5Al0.5Ti1.5(PO4)3 Solid Electrolyte Thin Films via Polymeric Complex Precursor, Satoko Takase, Chie Kubo, Ryota Aono, and Youichi Shimizu, Journal of Sol-Gel Science and Technology,79 (3), 564-572 (2016).
Effects of Oxygen Vacancies and Reaction Conditions on Oxygen Reduction Reaction on Pyrochlore-Type Lead-Ruthenium Oxide, Keitaro Fujii, Yasushi Sato, Satoko, Takase, and Youichi Shimizu, Journal of The Electrochemical Society, 162 (1) F129-F135 (2015).
---
What's new!?:
1/ SHIMY STUDIED IN MAC
Prof. Shimizu (Shimy) has been visited to Ceramic Lab., Dept. of Materials Sci. & Eng., McMaster University, Hamilton, Ontario, Canada, from March 1996 to August 1996 under the supervision of Prof. Patrick S. Nicholson. (photo with DOC)
1'/ Shimy has been visited to The Ceramic Lab., McMaster University, again in May 2000. Special Thanks to Ena & Doc, Drs. Kuo, Yoko, Ben etc.
2/ SHIMY WINS A SPEAKING PRIZE!
Shimy won an award for his oral presentation at The 7th International Meeting on Chemical Sensors, held in Beijing International Convention Center, Beijing China, in July 27-30 1998. It is the big conference on chemical sensors. Shimy's talk concerned his work on novel electrodes of Pyrochlore-type oxides for solid electrolyte device, to produce high-performance NO and NO2 sensors.
3/ SHIMY WINS An ITE Research Award: 2004!
Shimy won an award for his outstanding research of "Development of Functional Ceramic Catalyst for Gas-Diffusion Electrode", from International Technology Exchange Society, USA, in May 1, 2004.
4/ SHIMY WINS A Seiyama PRIZE: 2005!
Shimy won an award for his outstanding research of "Development of Novel Sensor Device with Functional Ceramic Electrode", from Japan Association of Chemical Sensors, The Electrochemical Society of Japan, in Jan 18, 2005.


Go to Teaching & Research, Y. SHIMIZU
Return to Ceramic Chem. Lab., Shimy's
Please contact Prof. Y. SHIMIZU with e-mail for more information.
Go to Dept. of Applied Chemistry home page
Go to Kyushu Inst Tech home page


Web Page Creator - For CCL: Youichi Shimizu, cclab@che.kyutech.ac.jp
Last update: March 9, 2015 <!- April 14, 1999, Jan 5, July 13, Oct 2, 2000, Dec 10, 2002, May 15, June 3, 2003, Feb 13, Aug 7, Oct 19, 2004, Feb 15, June 16, 2005, Dec 12, 2006, Jan 28, 2008, June 2, 2009, Aug 2, 2011, Mar 9, 2015, July 26, 2018 ->